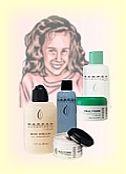 Harper Botanicals
Lifestyles' Harper Botanical line of products are a unique and exclusively blended combination of botanicals created from the best of nature and science to protect and foster the health and appearance of your body's largest organ…your skinNow, with the addition of Bb6, these outstanding Harper™ Botanicals products produce even better results.
Bb6 is a unique combination of botanicals blended exclusively for Harper™ Botanicals: Dandelion, Evening Primrose, Dong Quai, Golden Seal, Gotu Kola and Licorice. These botanical extracts have been proven by research to help smooth skin and maintain circulation, while clarifying and rejuvenating your body's biggest organ, your skin.
The Harper Product Line consists of 6 specialized product groups, each specially formulated to target a specific purpose in caring for your body.
More informations about Harper Product Line you can read on www.lifestyles.net