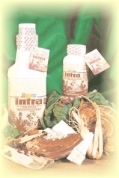 What is a Intra?
Botanicals have been used historically for thousands of years to maintain optimal health and vitality. Herbs, plants, roots, tree bark, leaves, and flowers (the botanicals) formed the basis of the food supply for many native cultures. For at least 3,000 years humans have known the powerful effect these natural compounds have on our well-being.
Intra is formulated with 23 time-tested and trusted botanicals that work synergistically to balance and strengthen the body. Ingredients such as Siberian Ginseng, Aloe Vera, Dandelion, Ginger, and Reishi Mushroom support a healthy immune system, as well as the other major systems of the body.
Daily use of intra can help nourish the cells of the body and provide essential plant based antioxidants.
Available as a pleasant-tasting daily drink or in convenient capsule form.
All natural botanical extracts.
Strong in anti-oxidant ingredients.
Feeds the body with nature's own nutrients.